The Avro Canada CF-105 Arrow was the pinnacle of delta-winged interceptor aircraft of it's time, being the brainchild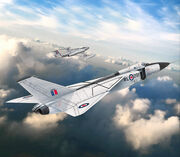 of engineerers in the 1953. However  during 1958, when the Avro Arrow was being tested, the program, including the jet's engine was promptly stop. The reason for ending research is still highly debated, and little detail is known. [1]
In Conduit 2, it's revealed that John Adams had the aircraft destroyed. For what reason exactly is unknown. 
Hidden Messages
OUR MASTER BROKE THE AVRO ARROW
Appearances
References
Edit
"Avro Canada CF-105 Arrow." Wikipedia. Wikimedia Foundation, 14 Dec. 2012. Web. 14 Dec. 2012.
Ad blocker interference detected!
Wikia is a free-to-use site that makes money from advertising. We have a modified experience for viewers using ad blockers

Wikia is not accessible if you've made further modifications. Remove the custom ad blocker rule(s) and the page will load as expected.